A Fresh Take on Pudding
> Jump Straight to Recipe
During my time in Japan, I had the chance to create and submit a vegan chocolate-orange pudding recipe to the CONNECT Magazine, and it was published in their 100th Special Issue. (Yay!) It's just so darn yummy, though, so I thought I'd better make a whole blog post all about it, too. 😉
When I first went vegan back in 2015, I was always scouring the Internet for creative ways to recreate the chocolatey delights that I had come to love over the years. That's when I came across this delectably rich avocado mousse recipe on the Healthy Recipes Blog.
The first time I tested it out, I could hardly believe that the mastermind behind its rich, creamy texture was none other than the humble avocado! Now, avocado-based pudding has become a fan favorite in my family, and we're always tweaking it to suit everyone's cravings.
Holiday Cravings: The Catalyst for a New Recipe
When I was living in Japan, I would always crave the flavors of chocolate, mint, and oranges during the Christmas holidays. That's exactly how this version of the avocado pudding recipe came into being! Same classic avocado, but this time, with a little citrus flair.
These chocolate-orange treasures not only look (and taste) like Christmas incarnate, but they're also totally vegan and super easy to make in Japan and beyond!
This recipe whips up in about 40 minutes and is easily customizable to suit your cravings. I also had some mint lying around , so I tossed it in for a garnish. Feel free to put your own little spin on it while enjoying some dainty, avocado magic over the holidays.
Citrusy Serving Bowls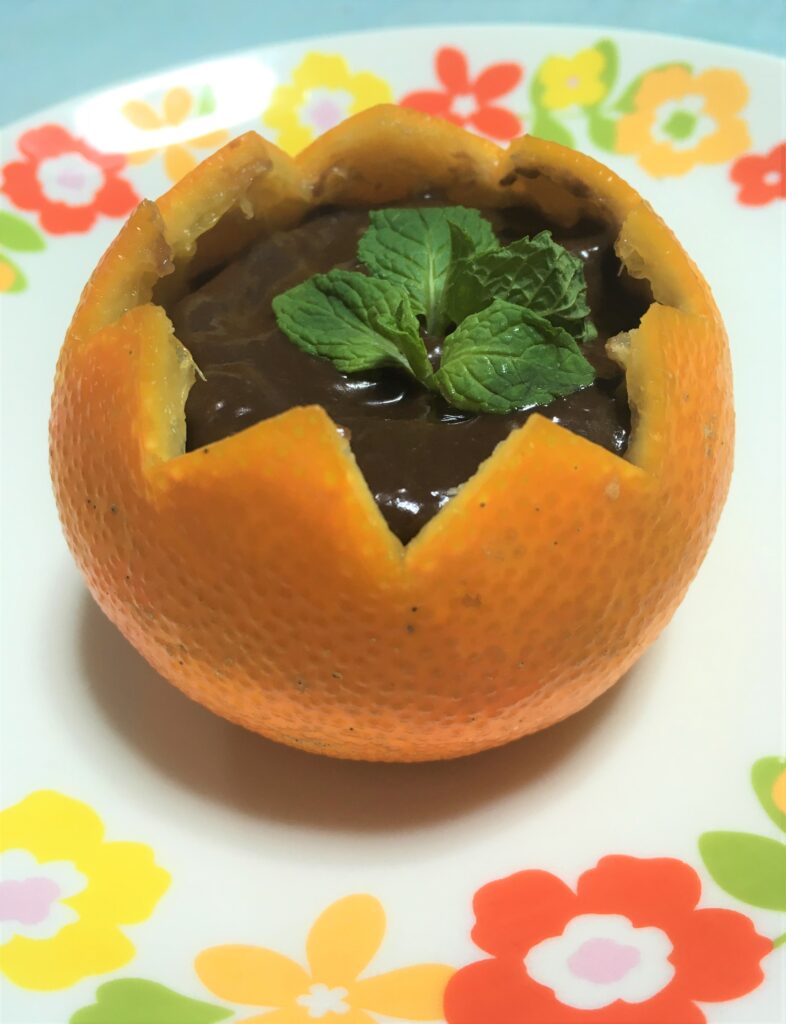 If you're a little short on time, this chocolate-orange pudding tastes great all on its own.
But, if you're looking to take your festive game to the next level, grab a bag of oranges and make your own serving bowls!
I find that a little paring knife is the easiest way to get the job done. I like to do a little criss-cross design by poking the knife edge in at different angles as I go around, but you can also just slice the top off horizontally.
Just have fun with it. 🙂
Happy baking!
Love, Day
Festive Chocolate-Orange Pudding
This is a rich and chocolately pudding that is overflowing with citrusy goodness. Presented in homemade orange bowls, it's a cute and simple dessert that can be served at any occasion. It's naturally vegan and gluten-free, and is sure to be a crowd-pleaser! Give it a try!
Ingredients  
Pudding Ingredients
2

large, very ripe avocados

½

cup

maple syrup

¼

cup

cocoa powder

1

tsp

vanilla extract
Instructions 
Step One: Prep the Orange Bowls
Cut the tops off of each orange. You can slice them off horizontally, or you can be really fancy and cut them out in a zigzag pattern.

Scoop out the contents of each orange (being careful not to poke any holes in them) and transfer them to a bowl.

Squeeze out as much juice as you can from the orange contents and set aside for later.

Rinse off the surfaces of each orange bowl and pat dry with a paper towel or cloth.
Step Two: Prep the Chocolate-Orange Pudding
Place the pudding ingredients into a Magic Bullet or other blender.

Add about ¼ cup of the freshly squeezed orange juice.

Blend the ingredients together. The pudding will thicken up very quickly.

Add more orange juice to thin out the pudding as needed.
Step Three: Serve and Enjoy!
Spoon the chocolate-orange pudding into each orange bowl. Put each bowl onto a small plate and garnish with fresh mint leaves as desired.

If not serving right away, cover with plastic wrap and place them in the refrigerator.